Our Vision, Mission and Values
Destination Imagination is the main program offered by BC Original Minds Association, a registered charity (888414042RR0001). BC Original Minds Association was formed by a group of like-minded volunteers who wanted to provide a project-based STEAM learning experience to help students acquire and practice communication, collaboration, critical thinking and creative skills to thrive in school, future careers, and beyond.
VISION
Using imagination to create a better world.
MISSION
We provide programs and experiences that empower learners to develop the skills and creativity to improve their lives and communities.
VALUES
Innovation – Challenging the impossible.
Collaboration – Working together to achieve incredible results
Risk-Taking – Braving the unknown and having the courage to fail.
Diversity – In people, places and thinking.
Life-long Learner – Be curious…always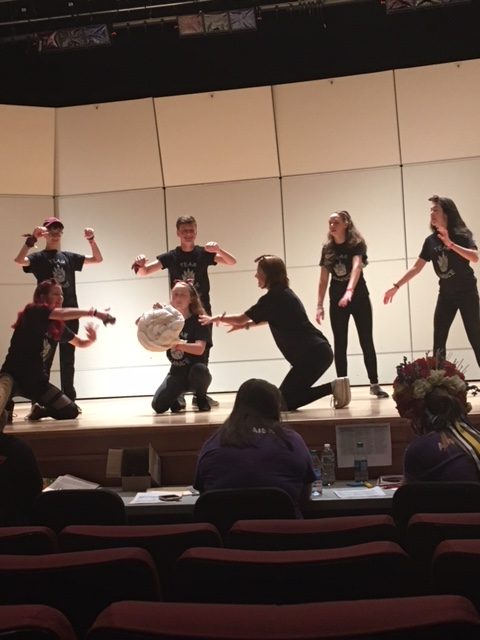 Gerald Fussell
President
Gerald W. Fussell, B.A., B. Ed., M. Ed., has a Masters Degree from the University of Victoria in Curriculum Leadership.  Gerald has chaired the 21st Century Leadership Committee in his school district for the past 8 years and has successfully led initiatives to improve assessment practices, collaboration, communication skills, creative thinking, critical thinking, gifted education, literacy, numeracy, and resilience.  He has also been involved with Destination Imagination for the past 8 years.  He started his district's initial team, Cannon Fodder, and led the development of the program so that this year more than 1,000 students were involved in DI district-wide.  Destination Imagination is seen as a key catalyst in the district for changing educational practices.   In addition to improving participation rates, teams from the Comox Valley have successfully participated at Global Finals with 19 top 20 finishes at the Secondary Level in the past 7 years[1]; as well as, second, third, and fourth place finishes when representing Canada at the last two Beijing Invitational Tournaments.  Presently, Gerald serves as the President of the DI Board of Directors in British Columbia, Canada, and is the Principal of Lake Trail Middle School in the Comox Valley.
[1] 1st (2018 – Improvisation), 2nd (2012 – Improvisation), 4th (2013 – Improvisation), 4th (2015 – Structural), 5th (2017 Engineering and Improvisation – Middle Level), 7th (2014 – Improvisation), 8th (2012 – Middle Level Fine Arts), 9th (2013 – Fine Arts), 9th (2014 – Fine Arts), 10th (2011 – Improvisation), 11th (2018 – Engineering; 2014 -Technical), 12th (2014 – Structural), 16th (2015 – Fine Arts), 18th (2013 – Project Outreach; 2017 – Fine Arts), 18th (2015 – Scientific)
Charlotte Anthony
Secretary
Charlotte Anthony has been creatively coaching Destination Imagination for over 15 years and has successfully managed 25 teams through regional, provincial and global competitions.  Charlotte has served as an appraiser at regional and provincial tournaments and currently sits on the BCDI Board of Directors.  As a coach, an appraiser or a Board member, she genuinely looks forward to each year's set of challenges.  When she's not playing with paperclips, straws and duct tape she is also a teacher of 25 years and can be found teaching Creative Problem Solving at West Point Grey Academy.
Nancy Waterman
Treasurer
Nancy Waterman has been involved in creative problem solving for over 20 years. Since her start in the program as a team member in high school she has hardly paused for breath.  After competing at Globals twice including part of the first University-level team from BC, she switched to volunteering for BCDI and hasn't looked back.  Nancy has worked as an Appraiser, a Regional Challenge Master, and an Affiliate Challenge Master, responsible for one of the Challenges at the provincial level.  She has also volunteered as an Appraiser at Global Finals.  In her professional life, Nancy exercises her left brain as a manager of financial analysis at a Lower Mainland credit union. She holds a CPA, CGA designation and a bachelor's degree in Chemistry from UBC.
Chamkaur Cheema
Past President
Chamkaur Cheema has been a team manager for the past 13 years and is the past Chair of BCDI. He is an Instructor with the School of Business at Kwantlen Polytechnic University. In addition to his teaching duties, Chamkaur serves on the University Senate. Active in the community, Chamkaur is a member of the Insurance Council of BC board, and serves as a member of the CPABC Investigative Review Panel. He holds his Bachelor of Arts from the University of Victoria and a Master of Business Administration from Queen's University. His career has spanned a number of industries including real estate, financial services, high tech and retail.
Elaine Jong
Members at Large
Elaine Jong has been involved with DI as an appraiser for the past 12 years and is currently a member-at-large.  She is a mother of two and an electrical engineer.
Kahir Lalji
Member at Large
Kahir Lalji is the Provincial Manager for Better at Home and Active Aging, and oversees the Provincial Healthy Aging Strategy with the United Way of the Lower Mainland. Kahir has extensive experience in social services with a specialty in seniors' issues. His experience includes extensive leadership and project management, as well as community needs assessment, policy development, and program delivery and evaluation. Previously, he was the Director of Community Programs for a large multi-service non-profit in Vancouver working with kids, youth, families and seniors; Kahir's passion is working in community, for community with a particular focus on serving under represented children and youth. Kahir has a Master of Arts from SFU in the Department of Gerontology specializing in community and healthy living for older adults and is a Certified Professional Gerontologist and is a member in good standing with the National Association of Professional Gerontologists. Kahir served as the Affiliate Growth Director for Destination Imagination BC from July 2015 to July 2017. Kahir's lifeline: Coffee. Coffee. Coffee.
Iris Kalbfleisch
Member at Large
Iris is a professional strategist and facilitator.  Iris provides leadership to high performing teams.  She brings strategic innovative thinking into corporate war rooms and assists clients in resolving complex business challenges.  Certified in the Outthinker Process methodology, designing strategic thinking sessions that help clients build up their innovative capabilities. Iris also has over twelve years of senior sales experience in the health care industry.  She was also Vice-President responsible for the web development business unit for a leading real estate consulting firm in Vancouver.  Presently she is found and President of Devonshire Innovation Partners Inc., a strategic, thought leading consulting firm.
Amaan Fazal
Member at Large
Amaan has been a critical thinker from a very young age.  As a young boy, he would find creative ways to convince his parents he didn't need a nap, or he would think of different ways to avoid going to family dinners.  As he grew up, he found different outlets for his critical thinking. For example, in grades 8 and 9 Amaan participated in Destination Imagination tournaments which left a long-lasting impression.  After graduating with a BBA in Marketing Management from Kwantlen Polytechnic University, Amaan joined the team at Jelly Digital Marketing & PR.  He works with a dynamic team to amplify brands with a combination of digital marketing and public relations.  Amaan's hobbies include going to the gym, reading books, and drinking coffee – lots of coffee.
Gabi Guerrero
BC Affiliate Director
Andrew Ferneyhough
Vancouver Island